SUCCESSFUL ACQUISITION WITH
CLARUS ACTA Ltd COMPANY, WHICH IS EXCLUSIVE IMPORTER AND DISTRIBUTOR OF ZIAJA COSMETICS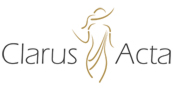 We proudly inform you that the acquisition on the Serbian market has been successfully completed in 2019. and that our company has taken over the management of Clarus Acta Ltd which is the exclusive distributor of the world-renowned producer of pharmaceuticals and high-quality cosmetics based on natural ingredients – Ziaja.
Ziaja is known for its natural ingredients, top quality products and unique design.
Thus, in addition to Europe, in a very short time, this brand has taken one of the leading positions on the market of the Republic of Serbia.
Visit us on the new website: www.clarusacta.rs